2017 Vineyard Herreshoff Cup Results
June 24 – 25, 2017
NOTICE OF RACE
1) RULES
a) The Organizing Authority for the 2017 Vineyard Herreshoff Cup will be the
Menemsha Pond Races c/o Sail Martha's Vineyard, Box 1998 Vineyard
Haven, MA 02568.
b) The regatta will be governed by the rules as defined in The Racing Rules of
Sailing 2017-2020 ("RRS"), the prescriptions of US SAILING, any
modifications or stated exceptions thereto, the H Class Association Rules of
April 12, 2008, as amended November 19, 2011 and the Sailing Instructions.
2) OTHER RULES and REQUIREMENTS
a) All boats must be sailed by two sailors.
b) All skippers and crews must wear personal flotation devices while racing.
3) ELIGIBILITY
a) The regatta is open to skippers who are current members of the Menemsha
Pond Races or the Edgartown Yacht Club.
b) Only boats that meet the specifications as set forth in the H Class Association
By-Laws Section II, paragraph 1 are eligible to compete with the exception of
Cape Cod Shipbuilding's H-12 ½'s which will be permitted.
c) Spinnakers may be used.
d) There is no limitation on the number of boats that may be entered from each
organization.
e) Eligible boats may enter by completing the attached registration form and paying
the $25 entry fee. Entries and payment (checks should be made out to Sail
Martha's Vineyard) should be sent to Vineyard Herreshoff Cup Entries, c/o Sail
Martha's Vineyard, P.O. Box 1998, Vineyard Haven, Massachusetts 02568.
f) Entries must be received by 1800 hrs June 16, 2017
4) SPIRIT
a) The Vineyard Herreshoff Cup is intended to be a Corinthian competition
between like-minded devotees of both recreational racing and the Herreshoff
tradition. Competitors are discouraged from aggressive maneuvers and/or
threats intended to intimidate other sailors and are further encouraged to
exonerate themselves after committing a breach of the Rules in Part 2 of the
Racing Rules of Sailing.
5) ENTRY FEES
a) The entry fee shall be $25 per boat with the winning team designating a
Martha's Vineyard non-profit as the recipient of the net entry fees.
b) NOTE: The Organizing Authority may in its sole discretion accept any late
entry at any time. A $50.00 late entry fee will apply.
6) PRELIMINARY SCHEDULE
a) Saturday and Sunday, June 24 – 25, 2017
SATURDAY, JUNE 24, 2017 (three races)
Competitors Meeting at the Miller's Boathouse 1000 hrs
First Warning Signal 1200 hrs
Cocktails and Dinner at The Aerie 1700 hrs
SUNDAY, JUNE 25, 2017 (two races)
First Warning Signal 1300 hrs
Awards Party at the Miller's Boathouse 1600 hrs
7) SAILING INSTRUCTIONS
a) Sailing Instructions will be posted on the Sail Martha's Vineyard and
Edgartown Yacht Club's websites, www.sailmv.org and
www.edgartownyc.org and on the Official Notice Board at the Miller's
Boathouse.
8) RACE HEADQUARTERS
a) Race Headquarters will be located at the Miller's Boathouse
9) RACE COURSES
a) The course to be sailed will be displayed on the Race Committee Boat Course
Board approximately ten minutes before the beginning of a starting sequence.
b) Courses will be sailed using the rounding sequences and the sides that marks
are to be left as shown on the course board. (see appendix A)
10) SCORING and ALTERNATIVE PENALTIES
a) The low point scoring system shall be used.
b) No score will be excluded. This changes Rule A2.
c) The top three series scores (total points scored for all races) for each
organization shall be used to determine the winning organization.
d) A One-Turn Penalty shall be used for Part 2 infractions. This changes Rule
44.1.
11) PRIZES
a) The Vineyard Herrreshoff Cup shall be awarded to the winning organization
and shall be engraved and maintained by that organization until the following
year's event.
12) SHORESIDE PARTIES
a) Facilities will be made available to all Edgartown YC sailors to shower and
change before cocktails and dinner.
b) The Regatta dinner will be held on Saturday, June 24 th with cocktails starting at
1700 hrs
c) The Awards party shall be held immediately after the completion of Race #5 on
Sunday, June 25th at the Miller's Boathouse.
13) LIABILITY
a) The safety of a boat and its crew is the sole and inescapable responsibility of
the Skipper/Owner who must ensure that his boat is fully sound, thoroughly
seaworthy and crewed by an experienced and physically capable crew. The
decision of whether or not to start or continue a race is solely that of the
skipper.
b) Menemsha Pond Races and Sail Martha's Vineyard do not accept
responsibility for loss of life or injury to participants nor for the loss of nor
damage to any vessel in any way from any cause during the Vineyard
Challenge Cup.
14) AMENDMENTS TO THIS NOTICE
a) Menemsha Pond Races reserves the right to amend this notice. Any
amendments of this notice will be posted on the Sail Martha's Vineyard and
Edgartown Yacht Club websites www.sailmv.org .
APPENDIX I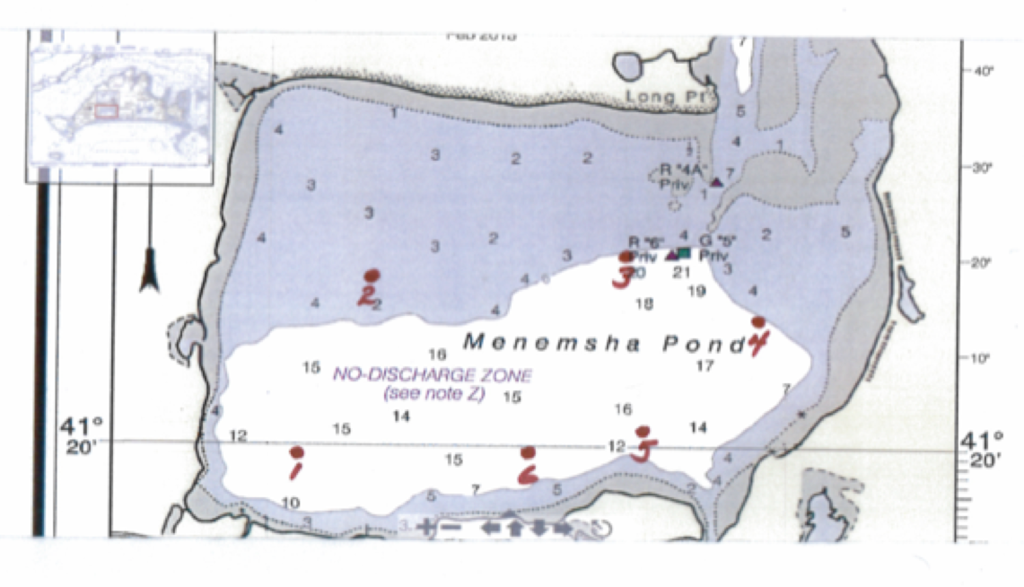 APPENDIX II
The following is an example of a typical course board as displayed on the committee boat at the starting line (assumed to be at Mark 3 in this example)
 1 S
2 S
6 P
4 P
3 P
1 F
 The number represents the mark to be rounded and the letter represents the side of your boat on which to leave the mark. The "F" indicates where the finish will be.